Company
KIPO! is a collaboration between TigerLion Arts and the Tibetan Institute of Performing Arts.
Tibetan Institute of Performing Arts (TIPA)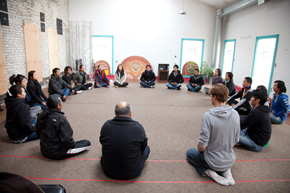 Eric Melzer Photography
The Tibetan Institute of Performing Arts (TIPA), founded by the 14th Dalai Lama, was created to preserve the rich cultural heritage of Tibet. When the Communist Chinese occupation of Tibet in 1959 attacked every aspect of Tibetan culture and civilization, forcing the Dalai Lama and some 100,000 Tibetans to flee to India, His Holiness felt the need to take immediate steps to preserve the traditional performing arts before they were lost forever. Thus, TIPA was established in August 1959, four months after the Dalai Lama's arrival in India.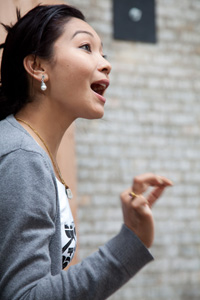 Eric Melzer Photography
TIPA is now a vibrant and creative educational institute, based in Dharamsala. It has over 100 members, including artists, instructors, administrative staff and craftsmen, all of who live on the institute's premises.
TIPA's highly trained performance group embodies the world's most skilled and experienced performers of traditional Tibetan music and dance. To become a performer at TIPA, one must go through a highly demanding selection process and thereafter a rigorous ten years of training in order to attain the title of Senior Performer.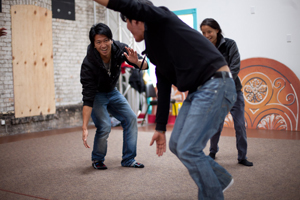 Eric Melzer Photography
While Tibet's spiritual and artistic traditions are under threat of extinction, TIPA's role is critical to their preservation and promotion in the world. TIPA has introduced traditional Tibetan culture to millions of people across the globe. It has performed in 20 different countries, and tours an average of 5 times a year.
In light of their similar missions to celebrate human wisdom and to awaken, inform and delight people everywhere, TIPA's collaboration with TigerLion Arts on KIPO! marks an unprecedented and unusual opportunity. With TigerLion Arts' exceptional skills and experience in western theatrical creation and production, TIPA has found an ideal partnership in which to create a world-class theatrical production celebrating the spirit and culture of Tibet.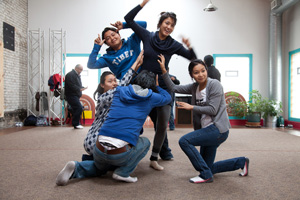 Eric Melzer Photography
For more information on TIPA, please visit www.tibetanarts.org
KIPO! features 20 senior performers from TIPA including: Ngawang Tenzin, Tenzin Norbu, Pema Tenzin, Ugyen Norbu, Tashi Tsering, Tenzin Jampa, Lharik Dhakpa, Phurbu Tsering, Tenzin Choenyi, Tenzin Yangzom, Tenzin Donsel, Tsering Dolker, Tsering Palmo, Tenzin Tsomo, Tenzin Woubum, Tenzin Nyenchey, Yeshi Samdup.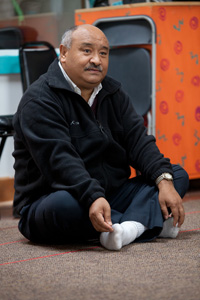 Eric Melzer Photography
Sonam Choephel Shosur, TIPA Director: Born in Darjeeling, India, Sonam has been the Director of the Tibetan Institute of Performing Arts (TIPA) for over two years as well as the tour manager, representative, and presenter of the Institute's music and dance. He has been in service of the Central Tibetan Administration of H.H. the Dalai Lama since 1982. Sonam's incredible service to Tibet is critical to the development of KIPO! as he will serve as a cultural historian and dramaturge for the development of the script and the project as a whole. Sonam's unique roles in KIPO! as the Presenter, Manager, and the Old Man character (derived from a character in traditional Tibetan opera), require the deep understanding of Tibetan history, language, politics and culture that he holds.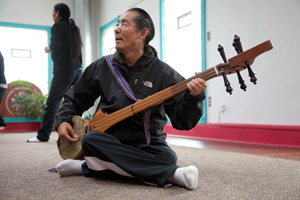 Eric Melzer Photography
Lobsang Samten, TIPA Artistic Director: Born in Tsang, Tibet, Lobsang has been the artistic director, opera master, and dance teacher of TIPA for over 34 years. He has toured all over the world and been featured in countless international movies, performances, and operas. As a founding presence in TIPA for over three decades, he remains the most respected director, teacher, and performer of traditional Tibetan arts and culture. Lobsang is a world-renowned expert in traditional Tibetan choreography and instruments, with one of the widest repertoires of Tibetan arts in the world. Over the years, he has played a variety of roles and he specializes in the Drowa Sangmo (Excellent Being) Opera role of the Tibetan comedian Pala (Father), who he will play in KIPO!, along with the instrumental roles of head ensemble lead and musician.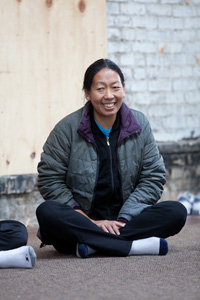 Eric Melzer Photography
Tsering PALDON
, TIPA Music Teacher: Born in Kullu, India, Tsering is one of the lead music teachers at TIPA. She has been a member of TIPA for over 25 years and has toured all over the world performing traditional Tibetan songs and dances. She has typically portrayed the mother roles throughout Tibetan operas, and will play the Amala (Mother) in KIPO!, along with her role as a musician. She has starred in numerous films as a Tibetan mother and is known for her skilled performance and voice. She has taught over 120 traditional Tibetan music artists, and is renowned worldwide for her experience and expertise in the field.
TigerLion Arts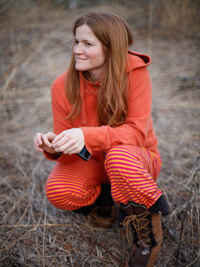 Eric Melzer Photography
Markell Kiefer, Executive Artistic Director, TLA, is a writer, director, performer and producer with an MFA in Lecoq-based physical theatre from Naropa University and a BA in Religion and Environmental Ethics from Middlebury College. She was raised a Tibetan Buddhist and her first outdoor productions were developed on the magical lands of Shambhala Mountain Center in Colorado. There she created and produced Thunderstorm, a play about the life of Chogyam Trungpa Rinpoche, for the consecration of The Great Stupa of Dharmakaya in 2001.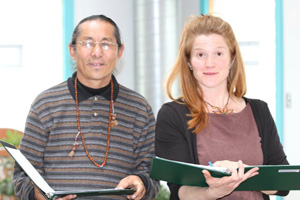 Eric Melzer Photography
Markell trained for two years at Circle in the Square Theatre School, apprenticed with European Clown master Giovanni Fusetti, and has toured, performed and directed nationally. Locally, she has worked with Pillsbury House, Stages, Jon Ferguson, the Southern, Children's Theatre Company, and the Ritz. Directorial credits include: Nature, The Buddha Prince, KIPO!, The Brush Master, The Rabbit in the Moon, The Life of Milarepa, Fully Committed and The Giving Tree, by Shel Silverstein.  For more information visit www.mnartists.org/markell_kiefer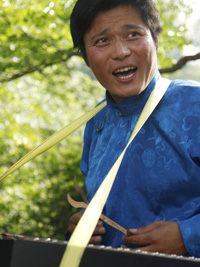 Eric Melzer Photography
Tenzin Ngawang, KIPO! Co-Producer, Music & Dance Director, and Lead Performer: Tenzin is a native Tibetan and trained at the Tibetan Institute of Performing Arts (TIPA) in Dharamsala, India, 1993 to 2004. After undergoing two years of vigorous training and practice at TIPA, Tenzin was promoted to the level of a Junior Artiste, and then after five more years of extensive performing throughout the world, he became a Senior Artiste at the institute. While at TIPA, Tenzin was the head of the Aa Ka Ma Band group, which produced many modern Tibetan songs and many of the their albums have become major hits.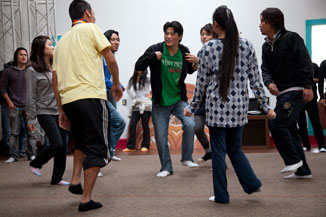 Eric Melzer Photography
In 2000 Tenzin was elected as the cultural Secretary of the Regional Tibetan Youth Congress. During his eleven years at TIPA, Tenzin performed all around the globe, earning the respect and praise of all Tibetan communities. Being well versed in all forms of traditional Tibetan music, instruments, and dance, Tenzin now teaches for the Tibetan American Foundation of Minnesota, which represents the second largest Tibetan community in the United States. Tenzin performed in and choreographed traditional Tibetan dances for The Buddha Prince, and brought an authentic Tibetan voice to it's the final musical score. He has worked with TigerLion Arts since 2005.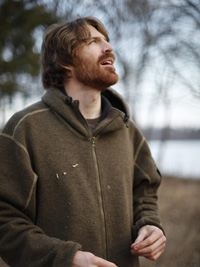 Eric Melzer Photography
Tyson Forbes, Producing Artistic Director, TLA, is a theatre creator, performer, and producer. Tyson has a B.A. in Theatre from Middlebury College. He has performed in regional theaters throughout the United States including the Guthrie, 5th Avenue, and the Ordway. Tyson is currently a company member of the Guthrie and lives in Minneapolis.  He has co-created numerous new works including Supermonkey, We are Ugly but We Have the Music, and TigerLion Arts' latest creation, Nature; based on his great, great, great ancestor Ralph Waldo Emerson.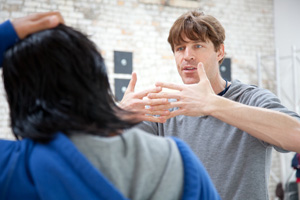 Eric Melzer Photography
Tyson has studied under Del Close of Chicago's Improv Olympic and with Clown Master Giovanni Fusetti. Acting credits include: Macbeth, Peer Gynt Cabaret, 1776, Fully Committed, A Streetcar Named Desire, Equus, Don Juan in Hell, Terra Nova, and Arcadia.  For more information please visit http://www.mnartists.org/Tyson_Forbes