KIPO!
His Holiness of the Dalai Lama.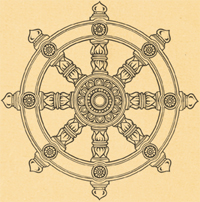 Under the unifying title of His Holiness' visit, One Heart, One Mind, One Universe, the Center for Spirituality & Healing, the Tibetan American Foundation of Minnesota (TAFM), and TigerLion Arts were thrilled to work together to present an extraordinary weekend of art and culture at the University of Minnesota. The visit of His Holiness, the first to the Twin Cities in over a decade, offered several rare opportunities to inspire individuals, stimulate dialogue, and educate the broader public about the profound contributions brought to our world by the Dalai Lama and the people of Tibet. For more information please visit www.dalailama.umn.edu.
KIPO! A Circus of Spirit, Song, and Dance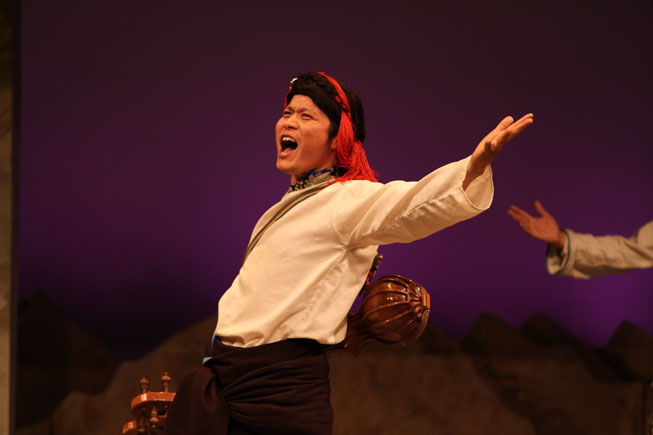 Photo by Tenzin Phuntsok
KIPO! is co-created with, and performed by, a 20-person ensemble from the world-renowned Tibetan Institute of Performing Arts (TIPA). Founded by His Holiness in Dharamsala, India, TIPA is the premier institute entrusted with the honored duty of preserving and promoting Tibet's unique tradition of performing arts, bringing it to millions of people around the world.
KIPO! is a unique combination of Western theatrical styles of creation and production with the ancient traditions of Tibetan performing arts. Tenzin Ngawang, co-creator and star of KIPO!, expresses the spirit the KIPO! collaboration well: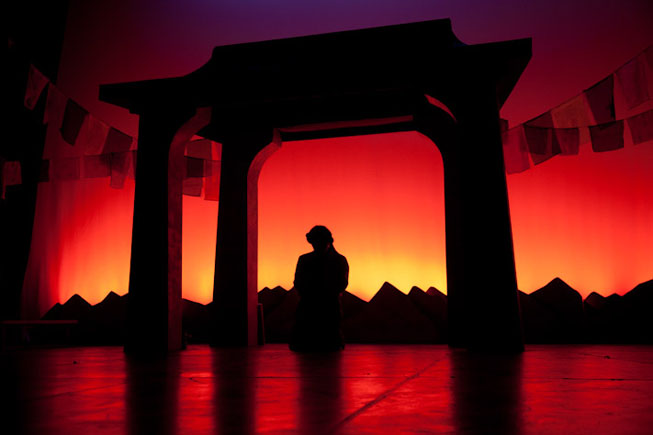 Eric Melzer Photography
"Our goal with KIPO! has always been to create a powerful and accessible way to express and share traditional Tibetan arts and culture with the rest of the world. While I have been deeply trained in Tibetan opera, dance, song, culture, history and language, and have toured the world with TIPA performing for audiences of all backgrounds, it has always been a dream of mine to create a medium that can more truly translate our culture to Western audiences. My TIPA training has made me an expert among Tibetan communities; however, my work with TigerLion Arts has empowered me to translate this unique and ancient knowledge across cultures. This cross-cultural collaboration is where the importance of KIPO! lies, for a culture insulated from the world can become lost. A culture that can expose and release its very roots takes hold and spreads. It survives and thrives even in the face of turbulence and uprooting.

Eric Melzer Photography

"With TigerLion Arts' unique experience, understanding, and sensitivity to Tibetan culture and tradition alongside their extensive background in Western movement, theatre and performance styles, KIPO! brings together the finest collaborators in the field to co-create a new production that integrates traditional Tibetan performing arts with Western theater.

Eric Melzer Photography

"KIPO! means "happy," and in a time when so much sadness prevails, we can be reminded of the ancient ways of peace and happiness. My people, who have faced many perils and losses, know of these old ways and keep alive the spirit of 'happiness' that is carried and taught widely and lucidly by His Holiness the 14th Dalai Lama."
–Tenzin Ngawang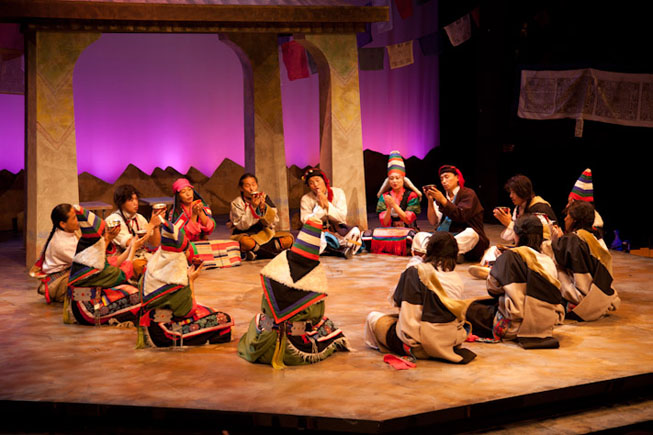 Eric Melzer Photography
TigerLion Arts intends for KIPO! to tour the world celebrating basic goodness, showcasing the unique Tibetan culture and fostering harmony within communities of all ages and backgrounds. The production offers Tibetan Music and Dance Workshops taught by visiting TIPA artists, along with Post-Show Dialogues, for the community to deepen it's connection to the ancient spirit, song and dance of Tibet.
Read words of endorsement from the community