Cast &amp Crew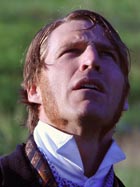 Tyson Forbes (Executive Artistic Producer/Emerson) is a great, great, great, grandson of Ralph Waldo Emerson. He is a professional actor and has performed in regional theaters throughout the United States. He has performed in numerous roles at the Guthrie Theater and was most notably seen in the roles of Jonathan Brewster in Arsenic and Old Lace, and Thomas Jefferson in their production of 1776. Tyson has created a number of new plays over the years and has a passion and knack for the collaborative creative process. Over the last 8 years, Tyson and his wife Markell Kiefer have developed TigerLion Arts, a production company which seeks to create positive change in the world by merging the work of the spirit, art and nature. "This piece comes from the depths of my soul, my ancestors, and my love for the natural world. It is the work of my heart."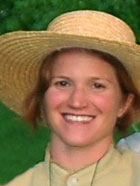 Markell Kiefer (Creative Producer/Director) is a writer, director, performer and producer with an MFA in Lecoq-based physical theatre from Naropa University and a BA in Religion and Environmental Ethics from Middlebury College. She trained for two years at Circle in the Square Theatre School, apprenticed with European Clown master Giovanni Fusetti, and has toured, performed and directed nationally. Markell's first outdoor walking productions were developed on the sacred lands of Shambhala Mountain Center in Colorado, where she created Thunderstorm, a play about the life of Trungpa Rinpoche. She went on to create The Buddha Prince, a play celebrating the 14th Dalai Lama, which has been produced in Minneapolis, Los Angeles and in New York City's Central Park. Most recently, Markell created and directed KIPO!, which performed in Minneapolis in collaboration with the Tibetan Institute of Performing Arts. Locally, Markell has worked with Pillsbury House, Stages, Jon Ferguson, the Southern, CTC, BLB, and the Ritz. Markell is married to Tyson Forbes and together they are parents to their son Kobun. For more visit www.mnartists.org/markell_kiefer.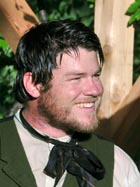 Sam Elmore (Creative Producer/Thoreau) lives in Boulder, CO where he balances his pursuits as a performer, coach, consultant and visual artist. He has been involved in all aspects of theatre and is a seasoned director, producer, choreographer and performer. Sam holds a Masters Degree in Somatic Counseling Psychology from Naropa University, where he focused his studies on creating non-clinical applications for the work. Sam is also a trainer of MatrixWorks, a living systems approach to creating healthy and sustainable groups. Sam's primary passion lies in the creation of original community based dance-theatre productions. Favorite theatre projects include the Common Unity Experiment, 52-Pick- Up (currently touring), Tales from Ovid (Helen Hayes nomination for Best Choreography), Lion in the Streets, Hamlet, Street Car Named Desire, The Serpent, and Savage/Love. http://www.onthebrinc.com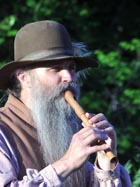 Dick Hensold (Composer/Musical Director) Dick is the foremost player in North America of the Northumbrian smallpipes (a quiet bagpipe from Northeast England). Hensold has played in Scotland, and has taught Northumbrian smallpipes at workshops in the United States, Canada, and Northumberland. The instruments he plays in the show include the seljefløyte (harmonic flute), recorders, low whistle, Northumbrian smallpipes, medieval greatpipes. Dick primarily performs the traditional music of Scotland, Cape Breton Island, Northumberland, and Ireland; also early music, Nordic folk music, and Cambodian traditional music. He has appeared at the Guthrie Theater (Peer Gynt, A Christmas Carol), Children's Theater (Snow Queen, Hansel and Gretel, Robin Hood, plus playing a number of recorded shows), Theatre de la Juene Lune (Hunchback of Notre Dame), and numerous independent productions, most notably Ruth MacKenzie's hit show Kalevala, Dream of the Salmon Maiden. http://www.dickhensold.com/
Andrew Schelling (Writing Advisor/Contributor) grew up in New England's Transcendentalist country. He moved west to Northern California in 1973. There he explored wilderness regions of the Coast Range and Sierra Nevadas and studied Sanskrit and Asian literature at U.C. Berkeley. An ecologist, naturalist, and explorer of wilderness areas, he has travelled extensively in North America, Europe, India, and the Himalayas. In 1990 he relocated to Colorado to join the faculty at Naropa University where he teaches poetry, Sanskrit, and wilderness writing. Poet, amateur naturalist, mountaineer, and translator of India's classical poetry, he lives in Boulder, along the front range of the Southern Rocky Mountains.
Christine Richardson (Costume Designer) Christine is very excited to have been a part of this project. As well as her current position as Costume Workroom Manager for the Guthrie Theater, her design work has been seen locally for: Guthrie Theater (Faith Healer, Happy Days, The Caretaker, The Ugly One, Pen ) Mu Performing Arts (The Romance of Magno Rubio, Cowboy vs. Samurai) Stages Theatre (Snowy Day, Twas the Night Before Christmas, How I Became a Pirate, The Giver), 59E59 (Pure Confidence), Mixed Blood ( Pure Confidence, Vestibular Sense, Messy Utopia, Dance on Widow Row) and 30 productions at other theaters/production companies in Portland, OR, Cleveland, Baltimore, Minneapolis, LA, and Seattle. TV and film projects as Set costumer and Wardrobe supervisor: multiple project for Wilshire Court, Orion, Universal Pictures/Largo Ent., Walt Disney, ABC, NBC, 20th Century/Fox.
Peter Schmitz (Collaborator) has been in the creative and performing arts for over 25 years as a professional modern dancer and as an actor in theater/film/video. He has taught/performed/choreographed through out the United States, Europe, New Zealand and Turkey. Peter lives in New York City where his recent shows include: "The Balcony" (Medicine Show), "No End of Blame" (P.T.P.), and "Sleuth" (Bristol Valley Theater)
Shannon Cristie (Movement Consultant)
Jon Ferguson (Advisor) Jon is from Durham in the Northeast of England. He trained at Middlesex University in London with leading international physical theatre practitioner John Wright. He has worked with some of the leading physical theater and clown companies in the UK and US including Hoipolloi, Told by an Idiot, Trading Faces, Live Action Set and Theatre de la Jeune Lune. He was named "2005 City Pages Artist of the Year," and has received numerous awards for his work as a director and theater creator. Jon has taught physical theater, clowning, and collaborative play creation throughout the UK and US. http://jonfergusontheater.com/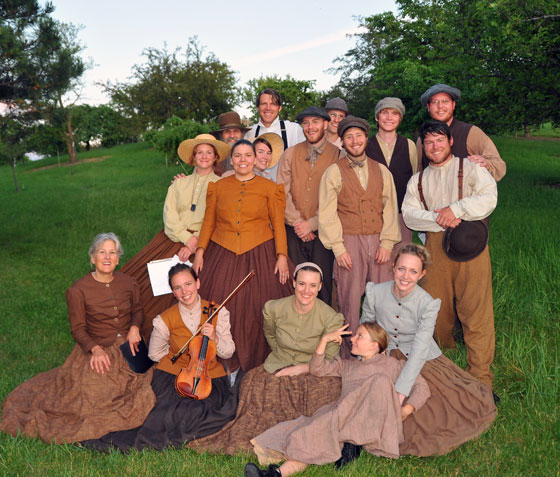 Jody Bee (Performer) is a mother, wife, tisane (herbal tea) maker, associate educator, yoga instructor, AND gets to fulfill her heart's passion for acting. She is truly blessed. She has studied movement theatre with Giovanni Fusetti, Jon Ferguson, Kari Margolis, and Ludmilla Ryba. There was a rare double rainbow at her wedding and her performance is for the bear and the owl. This is her second production with TigerLion Arts and she's pretty happy about that. Namaste.
Sky Brooks (Performer) is a mother, actor, painter, mask and puppet maker, and scenic artist. She recently put her talents to work with In the Heart of the Beast for their annual Mayday parade and has studied and performed clown with Giovanni Fusetti. Sky has collaborated with TigerLion Arts on numerous projects over the last ten years. She brings a rich energy and an enormous heart to the production.
Sarah Brown (Performer) is so grateful to be part of this unique and beautiful production. She is presently a co-creator for Savage Umbrella's LEAVES this summer. She is also an actress for the Barbara Schnieder Foundation, an advocacy group for mental illness and a Teaching Artist at Upstream Arts.
Steve Herzog (Performer) is a musician turned singer/actor and made his onstage debut this summer at the Minnesota Fringe Festival. He would like to thank all of the friends and family who have helped him find his place in the Twin Cities theater scene and looks forward to many more shows here in the future.
Zoe Annie Lien (Performer) is 8 years old. She moved here from Moscow at the age of 4. Zoe loves gymnastics, piano, her friends, and Justin Bieber. She has already traveled the world over as a young child, but her favorite place is Naushon Island, off the coast of Massachusetts.
Elena Orsak (Musician) was constantly surrounded by music from the time she was born. Having picked up the violin at age three it acted as a springboard for many other musical instruments and experiences to come. Elena has taught String Ensemble for the past two years and is now a Kindergarten teacher at City of Lakes Waldorf School. Fulfilling her passion and love of working with young children, Elena inspires many and brings music wherever she goes. Her inspiration? Husband and daughter, Jason and Mayla.
Ty Otis (Musician) is a Minneapolis-based songwriter and poet. He has performed for over 10 years and recently finished a music residency at LoBot gallery in Oakland California.
Steven Paananen (Performer) loves life. He is about to start his senior year at the Saint Paul Conservatory for Performing Artists. He enjoys amusing people, whether it is his friends or himself. He makes electronic music for leisure and tries to make other's lives easier. Thank you for all of your support Abdul!
Lauren Sat Rattan (Performer) has performed with the Guthrie Theater, the History Theater, the Gilbert and Sullivan Very Light Opera Company, Emigrant Theater, 20% Theater Company, and the Minnesota Fringe Festival. She has a BA from St. Olaf College and is also a certified Kundalini Yoga and Meditation teacher.
Dustin Suggs (Performer), when not creating theatre, works at a charter school for students on the Autism spectrum. He hopes to continue developing a life that can integrate these two passions and allow them to positively influence each other.
Max Wanderman (Performer) is a 23 year old hailing from Minneapolis. He has been involved in many productions but NATURE is his first leap into the wild world of professional acting. He graduated from Butler University in 2009 with a degree in Music Composition and International Studies.